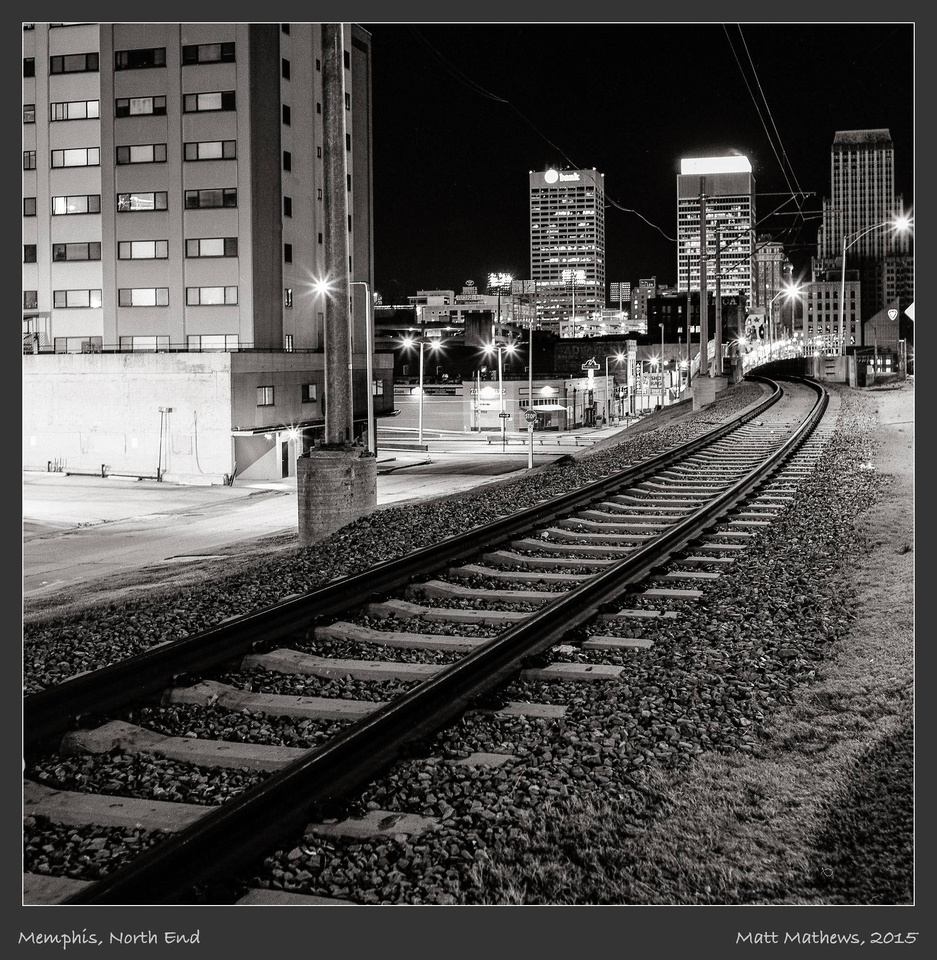 My current photography project, "Memphis by Night," is inspired by Brassaï, the great Hungarian photographer who photographed Paris at night in the early 1930s and eventually published a collection of these photographs as Paris by Night in 1932.

Paris had installed its first gas-lit street lights in 1828, the first city to do so, and with them Parisians redeemed the night for public life. Wandering the "City of Light" at night, usually alone but occasional with a friend or two, Brassaï grew fascinated by the dramatically different appearance of the city. The moody shadows, the uneven lighting created by street lights playing on surfaces of buildings and streets, and the moody, misty light diffused by fog captivated him. In the night, even the small public toilet kiosks that were then common fixtures along Parisian streets seemed like little enchanted castles. With them, the cobblestones, trees, and park benches became a dreamy, noir tableau.
Paula and Raiford's Disco, 2015

But it was not the city alone that changed at night. So did its inhabitants. Brassaï turned his camera on lovers embracing in the privacy of dark parks, prostitutes courting the attention of potential johns, and the invisible workers of the night -- butchers, delivery persons, rag collectors, police officers, street repair crews, and others whose work often prepared the city for life by day.

From the moment I first opened my anthology of Brassaï's photographs, I was intrigued. I had never really explored any city at night with creative or visual depth. And so, after living with Brassaï's work for several years, I decided to wander Memphis at night, and I decided to do so with an old medium format film camera from the early 1960s as fully manual and nearly as clumsy as Brassai's Voigtländer Bergheil camera.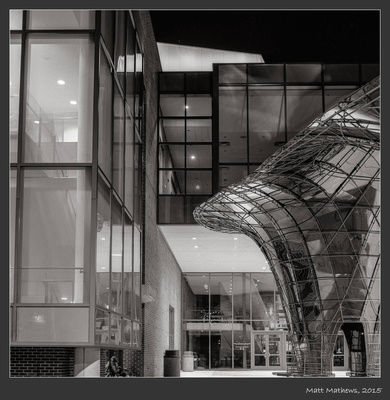 Homeless Man and Architecture, Cannon Center, 2015
Much like Brassaï, when I go out at night, I go as a flâneur -- a walking drifter, an aimless wanderer persistently available to whatever Memphis by night wants to reveal. I have ideas, hunches, and instincts that I follow, of course, but nothing is a sure bet, and there are always surprises and much improvisation. I wander dark alleys where I hear squeaking rodents and see chefs out smoking on their breaks. Other times I meet homeless people huddled in obscure corners or young professionals moving between bars, restaurants, and sporting events. Then there's the occasional security guard, underpaid and hungry for validation, who meets me with suspicion or excessive chattiness.
Sometimes people express interest and talk to me, but mostly they ignore me. Some look quizzically in the direction where my camera is pointed, puzzled and wondering what on earth could possibly be worthy of a picture. They are puzzled because they are still seeing and living as day people in the night world.
Sputnik at Joe's Liquor, 2015
With "Memphis by Night," my aim is not merely to imitate Brassaï. I have focused far less on the people and far more on the cityscape of the night. I am especially intrigued by the way the long exposures required by night film photography capture the blurred movement of people, cars, water, spinning signs, and public art. Such movement did not seem to interest Brassaï. And in an age in which the camera has become a suspicious instrument of universal surveillance, I cannot take the camera into bars, restaurants, or hotels to photograph people as Brassaï did eighty-five years ago. Night-lit architecture calls me instead.
In the end, though, I have come to share Brassaï's insight, tinged as it is by surrealism, that "[n]ight does not show things, it suggests them. It disturbs and surprises us with its strangeness. It liberates forces within us which are dominated by reason during the daytime."*
Tops Bar-B-Q, 2015
Mississippi River and Hernando DeSoto Bridge, 2015
----------------------
*quoted in Jean-Claude Gautrand, ed., Brassai: Paris (Koln: Taschen, 2008); p. 32